---
Welcome to the Central Coast Women's Symposium!
To all the Wise Women who participate in this premier event, thank-you for your contribution of time and energy. We have been unbelievably fortunate to have had so many gifted women grace our symposium such as the late Barbara Marx Hubbard, Dr. Jean Shinoda-Bolen and Dr. Jean Houston, to name a few.  And I have especially been honored to have had the opportunity to be of service to you and all the women who have been deeply touched by this experience.  Thank-you for participating in the premier event for women in San Luis Obispo County. I wish you infinite blessings of soulful moments now, and always.
With Grace and Gratitude,
Laura V. Grace, PhD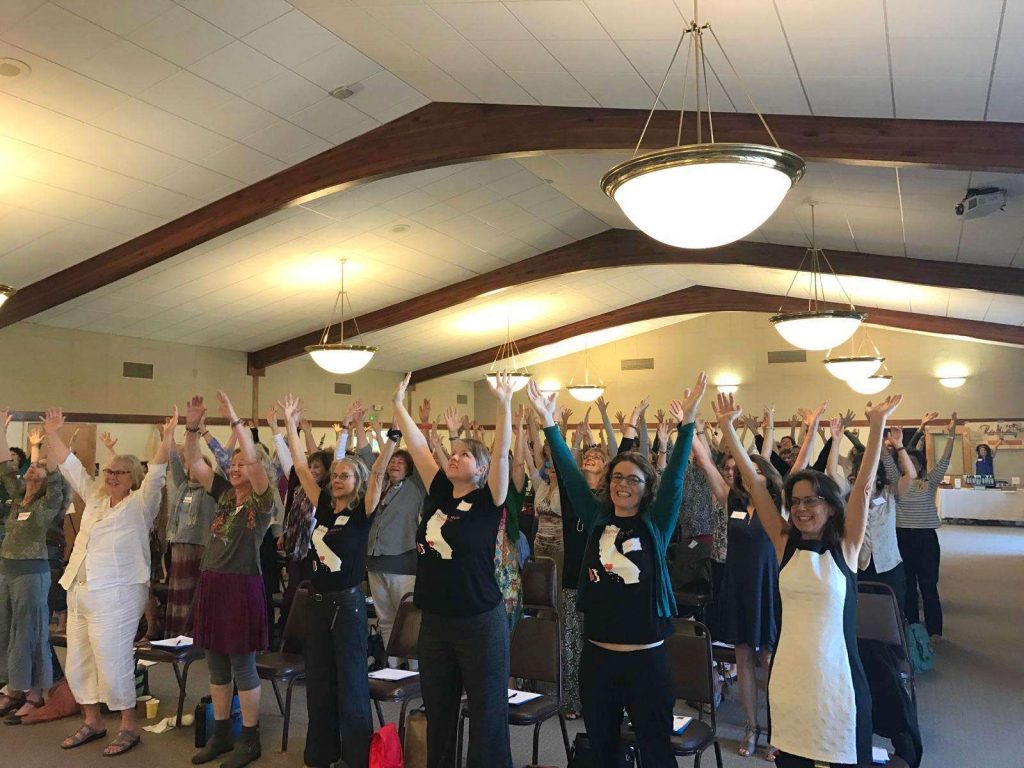 Discover what the Dalai Lama meant: "The world will be saved by the western woman."
Activate your inner courage and break from the status quo

Liberate your potential and bring about positive change

Reaffirm why there is no limit to what women can do
To celebrate Women's History Month and International Women's Day, which is always March 8th. And to support women in fostering an evolving feminine consciousness for a more sustainable world that honors wisdom, wholeness and oneness.
We are living in a profound moment in human history, when more and more women are awakening to their full potential, committed to co-creating a more conscious world, to live and lead with heart, soul and wisdom. Women are midwifing the new paradigm of feminine evolution and bringing health, energy, transformation, nourishment, and sustainability to our communities and entire planet. The Dalai Lama speaks about the need for compassionate leadership to solve the global crises and how women hold the greatest potential as natural leaders today.
VENDOR OPPORTUNITIES!
We welcome female-owned businesses who provide items and/or services for conscious women. Our vendor spaces sell out every year and we are fortunate to have vendors who provide quality products and holistic services for women.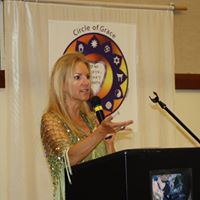 Laura V. Grace, Ph.D.
Producer for the
Central Coast Women's Symposium
The Central Coast Women's Symposium was founded in 2011 by Laura Grace, Ph.D.

Laura is an interfaith spiritual director, Jungian analyst and somatic practitioner. www.lauragrace.net
Former Women's Symposiums
Women's Symposium with Nina Simons,
President and Co-Founder of Bioneers, Founder of Everywoman's Leadership
Some Comments About the 2018 Women's Symposium
"The CCWS continues to feed my mind, body, heart and spirit. I've been attending since 2012 and always walk away feeling more inspired and hopeful about my life and the world at large." T.S.

"Laura, I don't know how you keep managing to bring in such amazing keynote speakers, these women are global leaders. I thank you from the bottom of my heart for the energy you bring to our community. The leadership you provide, as Nina said, takes moxie and a lot of energy and you have both." J.M.

"This was  my favorite symposium yet. After participating since 2014, I left once again feeling elated. Nina Simons' talk was remarkable; she is authentic and compassionate. Her words reminded me of the 11th hour we're in and what I can do to focus on protecting what I most love." P.G.

"The entire day was enriching in so many ways! Jan Mahood's labyrinth walk weaved the entire experience together at the end of the day. I felt SO CONNECTED to all the amazing women. THANK YOU!" J.K.
Women's Symposium with Denise Linn
Some Comments About the 2017 Women's Symposium
"Denise's talk and the points she made were moving and I felt she was speaking directly to me." T. E.

"W O W ! I loved the Symposium! Each aspect had something I appreciated or needed or learned from. Denise's dynamic sharing/teaching, to the versatile/wise post-lunch sharings, to my participation with the movement, to Laura Grace's sharings/insights on Kali and Kuan Yin and Zette's facilitation – I left feeling fed full, nourished, digesting, resourced, and inspired." S.K., San Luis Obispo

"I want to say Laura, this is one of my favorite symposiums of all for many reasons and on many levels.  I was truly stirred into my truth…some beautiful, some opening, and some uncomfortable. I think my sound of "ringing true" is more clear to me than ever." Y.R.

"Laura, it was my absolute JOY meeting you and being a part of the magnificent production you created. Laura, your clear intention for women to feel and be empowered came through the smallest of details, the stellar presenters and your well rounded Feminine Archetype program.  I was delighted and impressed through out my entire experience.  It started out on a very gracious note and and the momentum simply got better and better!" Vendor, iBalancetekk.com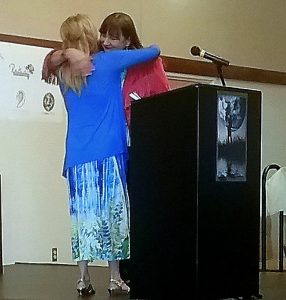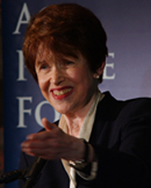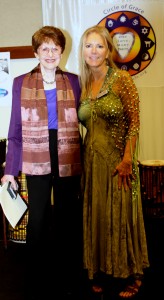 Women's Symposium with Dr. Rianne Eisler
Keynote speaker Riane Eisler brought a new vision to the Women's Symposium when she spoke about "What is Good for Women is Good for the World."
Some Comments About the 2015 Women's Symposium:
"Riane was amazing! She is showing the true value of what women contribute in their homes, and communities. Thank-you for bringing her to the Women's Symposium." Susan

"After hearing Riane's talk, I feel more hopeful than ever that a woman's worth is being recognized. I have taken care of my aging parents for years without any payment but Riane showed us that everything we do matters and is worth compensation of some kind." Anonymous

"The keynote speakers keep getting better and better. I wasn't familiar with Riane's work until today and she blew me out of the water with the Caring Economy program…hard to believe she is 83 years old." Joanne K.

"Today was my first time attending the Women's Symposium. Next year I am bringing my mother and sister. Thank-you for creating such a powerful experience." Judith S.
Women's Symposium with Dr. Joan Borysenko
What an amazing Fourth Annual Women's Symposium we experienced! Approximately 200 hundred amazing women gathered together to connect with Joan Borysenko and partake in the divine feminine archetypal workshop taught by Laura Grace. Many thanks to all of the wonderful women for sharing so much love, creativity and connection.
Some Comments About the 2014 Women's Symposium:
"Thank you for the inspiration for and all the work and time it takes to put on the Symposium. There were many synchronicities for me yesterday, from ideas in Joan\'s talk to connections with other women, and I was so glad I was there. And it is always wonderful to be with all that feminine energy. Thanks Laura, for your commitment to us and for holding the space for us to grow and learn together." K.D., Arroyo Grande, CA

"Wonderful sharing of wisdom and love! This year's teachings on Saying YES To Change were so inspiring! Both the morning segment with Dr Joan's talk on the anatomy of Change and Resilience. The afternoon Goddess archetype self-work brought GREAT insight as to the aspect I wish to more fully embody. I now feel I will serve myself and others at a whole new level as The Wise Woman…Deep gratitude to Laura, and to Dr. Joan, for opening my eyes." B.M., CA

"Awesome! Fabulous energy and I loved the circles in the afternoon – excellent facilitation to help us all embody the Goddess Archetypes. I really enjoyed being a Vendor/ a presence for women starting over. K.C., Morro Bay, CA

"This was such a wonderful day and such a gift to be able to participate in the Symposium with the beautiful Laura V. Grace and the powerful Joan Borysenko…." K.M., San Luis Obispo, CA

"Thank you Laura!! It was incredible! This was an Amazing Women's Symposium!!! Loved listening to Joan Borysenko and also the great class Laura taught on Feminine a Archetypes!!! Already looking forward to next year's Symposium!!!!!" S.C., Cayucos, CA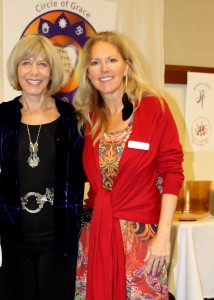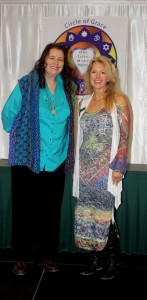 Women's Symposium with Dr. Jean Houston
Keynote speaker Jean Houston shared her thoughts about "The Renaissance of Spirit and the New Identity of Women" with 200 women. The day also included break-out circles and a panel discussion. The symposium was amazing and we look forward to next year's experience.
Some Comments About the 2013 Women's Symposium:
"Hearing Jean Houston changed my life–what a treat. The different formats made everything very interesting. Great day of learning and interaction." –N.M.

"Wonderful, beautiful energy with so many remarkable women–yes! We are very blessed to have this Symposium and such prominent keynote speakers come to San Luis Obispo, CA, every year. Thank-you for making this happen!" –S.H.

"Gathering with all of the conscious women and hearing Jean Houston speak has left an unforgettable, positive mark on me and my life." –J.L.
Women's Symposium with Dr. Jean Shinoda-Bolen
Keynote speaker Jean Shinoda Bolen shared her infinite wisdom, including the power of women's circles from her book The Millionth Circle: How to Change Ourselves and The World–The Essential Guide to Women's Circles
Some Comments About the 2012 Women's Symposium:
This year's symposium exceeded last year's event, and I thought that was as good as it gets. Janet R.

After hearing Jean Bolen speak, I felt inspired with hope, knowing that so many women are committed to making a meaningful difference on our planet. And then, I attended the afternoon workshops and walked away feeling even more inspired! I'm also ready to create my own women's circle. Thank-you for offering a great event for women. Linda S.

I traveled 8 hours to attend the symposium and look forward to traveling 8 hours again to experience the next one. Mary T.

This was a sweet and memorable event. It always feels good when when brilliant goddesses come together to celebrate diversity, balance and optimism for good change in our world. Thank you for the great day!!! M.C.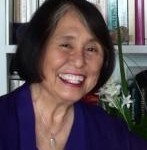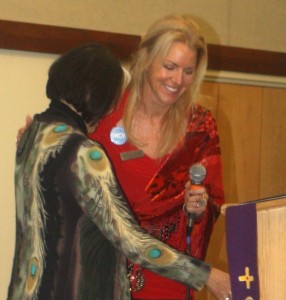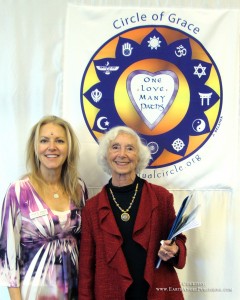 Women's Symposium with Dr. Barbara Marx Hubbard
Keynote speaker Barbara Marx Hubbard, visionary, social innovator, author, educator and leader in the new world view of conscious evolution inspired and enlightened the attendees. Women were able to network and connect with like-minded women committed to emotional, spiritual, creative and professional growth.
Some Comments About the 2011 Symposium:
The women's symposium far exceeded my expectations. I walked away feeling inspired not just about my own life, but about my role on the planet! Mary L.
This is exactly what I needed to hear and experience. It's been two weeks since the symposium and I'm still feeling motivated to move forward in ways I haven't felt for a long while. Kathleen K.
Everything was wonderful…Barbara Marx Hubbard, the workshops, just everything. Thank you for offering such an empowering event for women. Angela J.
The workshops were pivotal…and the keynote speaker "woke" me up. I'm now more clear on the steps I need to take to create a vision I've had for over a year. Thank-you for organizing such an amazing experience. Elizabeth D.
I drove two days to get to San Luis Obispo and this event was worth every mile. Sign me up for 2012's symposium! Victoria G.
---
---